SIGVARIS COTTON AT COLLANT CL1 OPEN TOE NATURE
The compressive Tigh-High by Sigvaris have the following features:
Glamorous covering fabric
Class 1, KL1, KL1, CL1, CCL1, First class (18 - 21 mmHg)
open toe
Therapeutic efficacy
The Sigvaris collant  has a particular processing that determines an optimal therapeutic compression.
The highly elastic elastane threads give Sigvaris products a compressive strength and therefore a therapeutic efficacy repeatedly tested by medical tests.
Softness and resistance
Sigvaris collant  are soft and silky thanks to the special composition of multi-fiber textured polyamide.
Moreover, the products of the Cotton line are in part made of high quality cotton, for an excellent comfort. 
Moreover, the stockings are non-deformable and resistant over time thanks to the double-coated weft thread and the elastic inserts.
Comfort
Sigvaris stockings allow your skin to breathe. Humidity is in fact carried outside and this is why socks and tights are pleasant to wear even on the hottest days.
Elastan is not in contact with the skin and this is what makes Sigvaris products so comfortable.
Hypoallergenic, delicate on the skin, stockings, Tigh-High and and calfs are easy to put on and take off thanks to their softness.
Complete range also customized
Sigvaris products are available in meat or black in the first or second class with guaranteed graduated compression.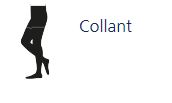 Italy:
All packages will be sent with express courier, the cost of the shipping is 3,99 euros including VAT for all italian shipping and italian islands included where is not specified otherwise.
For all orders over 70 euros the shipping will be free of charge in Italian country.

European community and rest of the world:
For european countries the shipping cost is 15 euros and for extra-european community is 25 euros for the standard shipping with UPS courier.
The Walkando staff reserves the right to send the goods with a different courier due to logistical requirements.