Over twenty years ago, Peter Kjellerupe and Mandy Cabot, husband and wife of American origins, discovered a pair of particularly comfortable clogs in a small shop in Europe.
Soon they realized that simple pair of shoes, with some innovative modifications, could revolutionize the life of anyone who wore them.
The couple thus began a small production and gave a couple of them to several friends.
In an instant, an icon of comfort was born.
Moving comfortably without sacrificing style is the key to the success of Nordic colored clogs.
The Dansko formula does not cease to excite its customers, with an always innovative design and a comfortable fitting that combines functionality and aesthetics.
The selection of materials, the study of form and attention to detail, guarantee an excellent quality product.
Dansko offers comfortable, comfortable, functional shoes to always wear.
Dansko is the perfect choice for work professionals such as doctors, nurses, cooks, teachers, beauticians, hairdressers or anyone who spends most of the day on their feet.
What makes Dansko products truly unique is their super comfortable lift: once tested, it will be impossible to do without!
All Dansko models feature high quality leather uppers, which follow the natural lines of the foot, and breathable leather insoles
and ergonomic.
The slightly raised heel absorbs all impacts while walking.
The sole of the Dansko Professional clogs is made of polyethylene, instead of the classic wood, and this allows stability, support, greater shock absorption and greater slip resistance.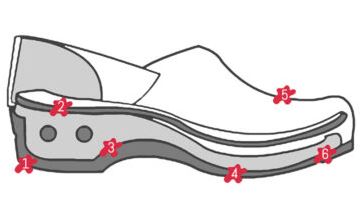 1 Unparalleled lateral stability. Designed for better balance

2 Anatomical breathable insole. Helps maintain a natural posture

3 Greater shock absorption

4 Non-slip rubber, for safe and stable support

5 Space required, which guarantees freedom of movement. The toes move comfortably

6 Anti-fatigue base for all-day comfort.